What are the two most unpopular towns in the market now? Without thinking too hard, you would likely say defensive foods and Obamanomics healthcare. Well, think again. They are both high safety ghost towns the crowds have fled in favor of recovery cyclicals and technology. But in the stock market landscape, a crowded town is a dangerous town.
Cramer was pointing this out on his show yesterday. He was saying you might want to stay away from the popular, crowded themes and take a look at the deserted towns. If you do that, you see an interesting turn taking place in the market. You can go through a sampling of food stocks and see this: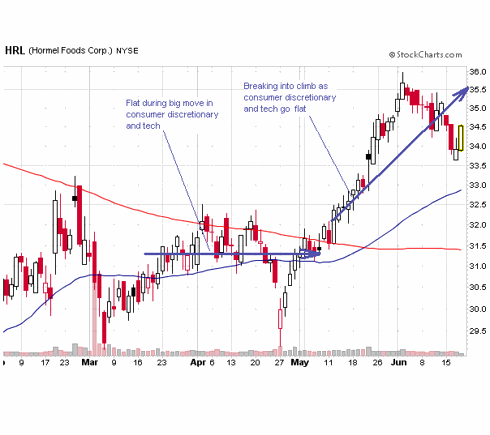 The big, safe food and beverage stocks were conspicuous by their absence from the March/April rally. But now it's the revenge of the nerds. The chart here is for Hormel, but you see a similar thing for GIS, DLM, RAH, K, HNZ, UL, etc. The healthcare stocks show a definite group thing going on as well. They very typically look like this: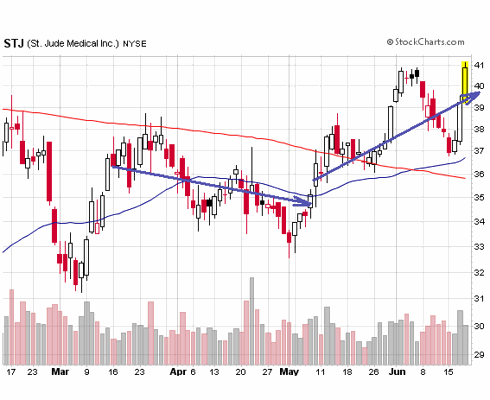 They have perhaps already been beaten down anticipating some of the worst case scenarios from healthcare reform and are ending their doldrums just as the discretionary and tech stocks go into their current consolidation. The chart is for St. Jude Medical, but you see the same thing for AMGN, STE, AMMD, CRL, and others.
What are we to make of this? Well, maybe we shouldn't feel so lucky like the punk in my previous post. Maybe we should avoid the dangerous, crowded rally darlings for now, at least until we see which way the XLY and RLX break from the consolidation they've been working on for a month and a half. In the meantime, the crowds seem to be finding their way back into Dullville.