It looks like the market is playing it's dastardly little game of stump-the-technical-analyst-and-make-him-look-like-an-idiot again. This has been a favorite all year long. Only an idiot would have bought anything in April during an obvious sharp bear rally. Bear markets don't end with a wild rally off a wild sell down - any smart technician knows that. All the oscillators read "suckers rally". But the suckers were right. And in July, the market was obviously rolling over having a lot of trouble clearing the descending 200 dma. I wrote a post here
More Bear Signals
on July 14 on why any sensible TA man would be short to the hilt at that point with the market's driver turning the wheels south. However, as I pointed out back then, the only thing that's been right all year is the game of follow-the-leader-groups, the leader groups being retail, tech, and the BDI (Baltic Dry Index). They were a lonely group back then calling for a north turn out of the market's funk, and they were right again as they had been in April.
Now we see the market technicals attempting to fool us some more: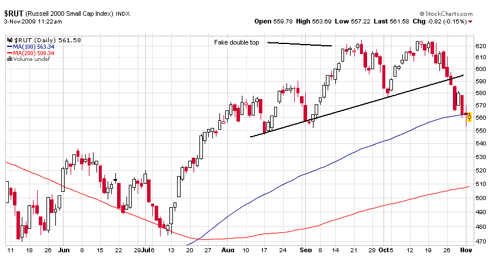 Any technical analyst knows the small caps fizzle first in a run, and in early November we were having a major flameout with the Russell. Also we have this: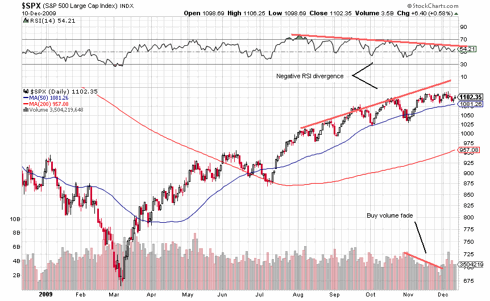 Here we see some major negative RSI and volume fade. So we should be an idiot and buy if the leader groups are right again. If you check the RLX, QQQQ, and BDI, they are sticking out their tongues at the technical analysts and saying "see you at the finish line, chump".