Solitario Exploration & Royalty (
XPL
) could perhaps be considered an overlooked stepchild among the gold stocks. If you like your juniors above that sub $1 area but with lots of future explosive growth possible, this may be your cup of tea. Unlike the typical junior, they do have current revenue. But most all of their sales still reside in the ground.
A
summary of their projects was given by their CEO in an at SA in June 2007
when the stock was valued at around $4. It went to $6 before being smashed by the general market sell off: (click to enlarge)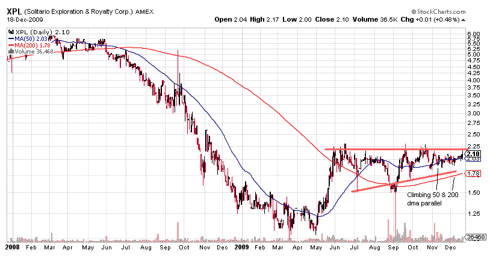 In the meantime, they have gotten to the point where they will be doing some major drilling projects in their large copper, gold, and silver properties next year. Any positive results could quickly return the stock to where it was in mid '07, when gold was much cheaper. The drilling plans were
announced yesterday
.
A major rule with the junior gold miners is that they don't really find much more gold in new areas anymore compared to what improved technology is bringing out of the large deposits that have given up their easy gold already. New finds out in the middle of nowhere requiring big infrastructure build is hard to finance and profit from. You want juniors who find new gold in large existing formations where infrastructure has already been paid for. A large gold/silver field in Mexico where XPL joint ventures with Newmont Mining fits that bill.
Technically, the stock looks to be just now regaining consciousness from the '08 party. A resistance level at $2.20 has developed and the 50 & 200 dma have crossed and gotten nicely upsloping and parallel - often a sign that a stock is getting its act together. The gold pullback hasn't phased its approach to the resistance level yet. If it breaks the formation, it may run pretty good.
Another positive is an apparent complete absence of analyst coverage. I can't find any. That's good. Cramer's analyst rule is zero is best, 1 to 4 is OK, much over 5 is sell.