If you are looking for a tech stock related to the smartphone "tsunami" as Jim Cramer calls it, but don't like the much talked about names that have made big runs already to valuations that aren't dirt cheap anymore, then take a look at Nam Tai Electronics (NTE). This components company passes Cramer's hammer test. If you would smash open a smartphone, some of Nam Tai's stuff would fall out. In fact, Barron's says that, of all the stocks in their universe, NTE has the most exposure to handsets at about 70%. That was a very bad thing back in March, when nothing but dark things were being foreseen for the handset market.
This company is based in China, but serves Asia and Japan as well. As is noted in
Global Advisors Look To China
you don't often find a stock selling at the amount of cash on hand per share, but with $5 a share in cash, NTE is just that. Price/sales is 0.4 and price/cash flow is 6.7 and PE is 8 and they are dialed into the smartphone market growing at about 30% per year (globally - probably faster in China). The article also notes that the stock has "been been beaten up and left for dead" as the chart attests: (click to enlarge)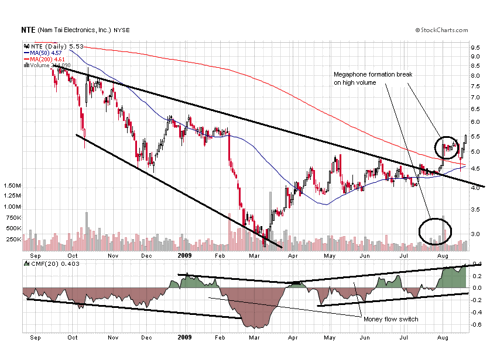 Look out, it's regaining consciousness. It's still down for the year, but probably not for long. That may change at 9:30 AM tomorrow.