If you like to have good monetary valuation backing up all your stock selections, you have a tough time buying gold stocks. They dance to a different tune. I like to buy stocks in the context of their historical valuations, but with any mining stock, the pricing is determined as much by what they have in the ground (not producing any cash flow yet) as by about any other measure. That and how much they are spending to find and extract their product is about all the market cares about. You can go with just the mature, big cap producers to seek good value. But you typically run into cases like Agnico-Eagle Mines (
AEM
). This has been a favorite gold miner of Jim Cramer, the ultimate fundamentalist, but have you looked at its valuation lately? It sports a price/cash flow of 149, a PE of 157 and - well I could go on. Suffice it to say its valuation stinks. But it will climb along with the price of gold anyway - much to the annoyance of all us value investors.
If you want a token value stock in your gold line up, take a look at Aurizon Mines (
AZK
) from Canada. They have no geopolitical issues having all their operations in North America. The price/revenue is a palatable 4.6 and the price/cash flow is a nice 10.7 and, if you like historical value, it has this history: (click to enlarge)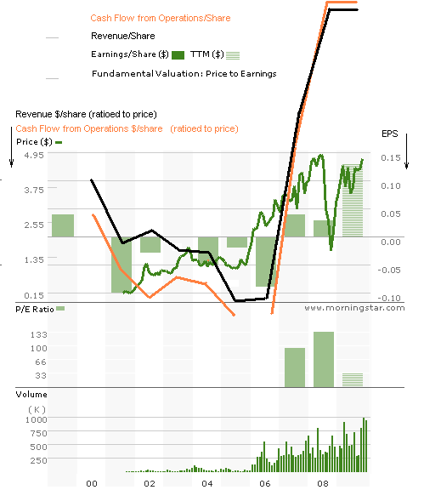 The price seems pretty well correlated with their financial results over the years and leaves a huge catch up move to be had even if gold were to hang around $800-$1000. The PE has shrunk to a reasonable level (for a gold stock). The stock price has been relatively stagnant this year. As the volume chart shows, investor interest has increased since '06 - everything has raced ahead of the stock price since '06. If the gold price goes into a big climb from here, this stock could have a nice move coming.