Ignoring the seismic shift in the sentiment and fundamental view of gold wrought by the recent euro mess for a minute, let's look at just the technical juncture gold finds itself at.
By conventional technicals, you have the small gold stocks, which typically are the best barometer of major trend changes, doing a fairly important formation break this week: (click to enlarge)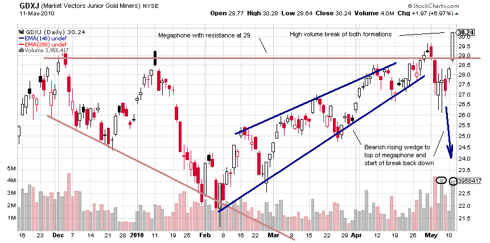 Megaphone formations typically break energetically when they break, and the four month correction in gold from December has put the small miners in a megaphone. Another overall market correction, as in January, was looking to run the mining stocks back down into the gyrating middle of the formation, but the strong move now underway may bust both the rising wedge within the megaphone and the megaphone's resistance level at the top. The volume would certainly indicate this.
By unconventional technicals (fractal analysis) you have gold now emerging from a four month corrective cycle (gold does everything in four and eight month stretches) and is nearing the end of a 64 month cycle. And the energy levels involved in fractal study have gold beating the last tackler just now. As David Nichols, chief diviner of gold's fractals said in his May 7 report:
The important thing to know right now is gold is now in the final 8 months of this pattern, and this is when amazing strength should start to show, as the global flow of speculative capital pours into the pattern.

There is almost nothing left now to keep gold from breaking into the clear. $1,192 and $1,210 are the last important energy levels prior to lift-off.